There are three ways to add applicants, found below. Only complete one for each student.
You reach the Applicants section by going to Students> All Students> Applicants
This will bring you to the Intake Seasons Dashboard. The Intake Season relates to the academic year that these applicants will be joining your school. Before adding any applicants you have to set up the Intake Season first.
For instructions on how to do this read our article on Setting Up the Intake Season. 
Click on Applicants on the left-hand side.
The applicants' table will show if the applicants have been enrolled, rejected, withdrawn or newly created.

1. Uploading an ATF
Applicants can be added onto Arbor by uploading an ATF (Applicant Transfer File.) You may want to read our article on 'How to Import an ATF'  ATF Import
2. Manually adding applicants
Go to Applicants.
Click on the +Add in the top right-hand corner.

A pop up will show where you select if the applicant is already a student or is a new student.
When clicking on Create Application for Existing student a slide over will display a drop-down with students name, choose the student and fill in any other information you want to add in the slide over and then click on Save Changes.
Once selected this will bring you to a new screen which will require you to enter the applicant's details. As the student already has a profile on Arbor the information needed will be subsequently less than that of a new student.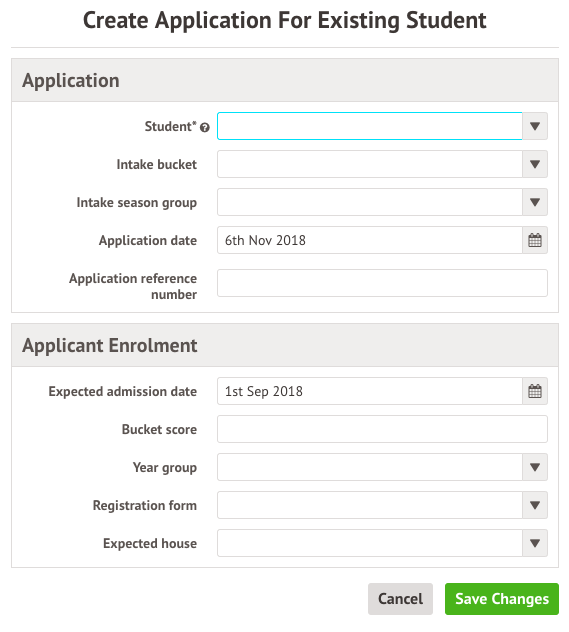 When clicking on Create Application for New Student a slide over will load, add the details of the new applicant and click on Save Changes. You will also be asked to create Guardian Details for this new student so make sure you have this information to hand!
3. Uploading Applicants
Go to Applicant Uploads.
Download the Template.

Click +Add to upload your template and confirm and import your Applicants.