Please note: The Arbor Interventions module is available as part of the Perform package.
An intervention is any action that a school takes with a child, or group of children outside of normal day to day lessons with the aim of improving student progress, attainment and/or well-being.
Interventions are an essential part of the day to day running of all schools, regardless of their size, status or the age group of the students.
Each intervention should:
Have an impact that is closely monitored weekly or monthly etc

Monitor cost needs

Have a high level of student turnover

Have specific outcomes

Target a group of students

Have outcomes that can be measured
Examples of Interventions
A regular, scheduled literacy and numeracy group

An external support group e.g. a mental health support workshop

Subject specific interventions e.g. Science booster

One to one interventions lead by a Teaching Assistant

SEN cohort interventions

Escalated attendance interventions

Keeping record of students on a Behaviour Support Plan

Escalating student to different severities of behaviour report cards
Intervention categories
The Setup section of the intervention module allows you to set up and configure your interventions module to meet your reporting needs before you begin using it. Go to Students > Interventions > Setup > Intervention Categories.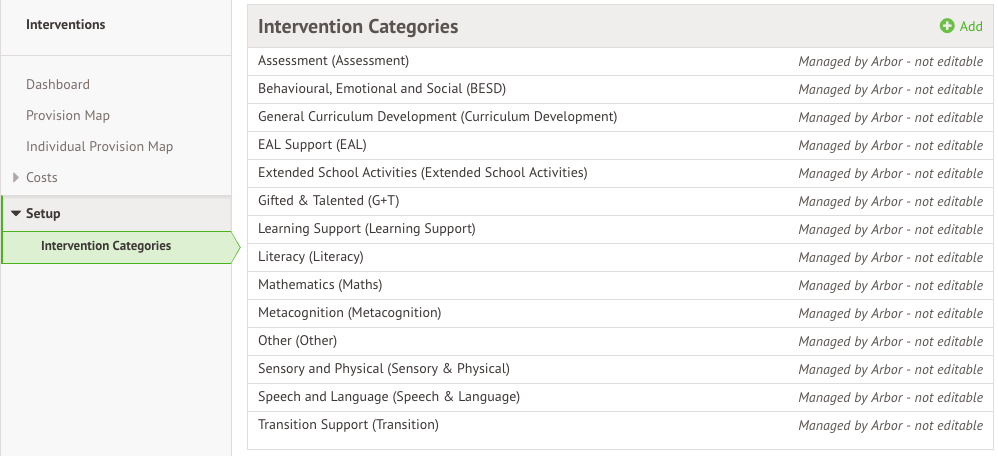 Here you can see a list all of the intervention categories currently set up for your school. Intervention categories are a way for you to group together and define different categories of interventions based on their particular area of focus.
For example, for reporting purposes, most schools wish to differentiate between interventions focusing on providing support to EAL students and gifted and talented students.
To save you time in getting up and running with interventions, Arbor has defined a set of generic intervention categories, but you add a new category by clicking +Add.