Custom groups (sometimes referred to as user-defined groups in other systems) can be used to manage groups of students, guardians or staff for specific purposes, such as making custom reports or easily contacting them. For example, you may want to create a custom group for Vulnerable students. You can use Custom reports in:
Custom Report Writer - Use filters to include or exclude students in certain custom groups

Assessments - Filter our Analysis pages by custom group
Attendance - Filter the Bulk Edit Marks pages to view and update attendance marks

Many more places!
School: Action: Custom Group: View/Administer permission to set up new custom groups.
Creating a Custom Group
Custom Groups can be created by going to School > School Structure > Custom Groups. Click the green New Custom Group button.
In the slide over, add a group name, and choose who will be included in your custom groups. Then click Create Custom Group.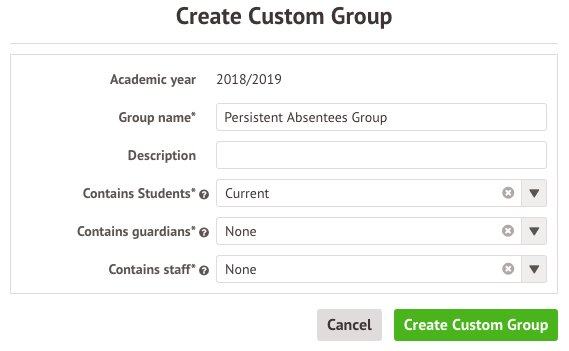 You will then be taken to the Custom Group Overview.
Enrolling Students
Enrolling students manually
From the Members tab, click +Add in the Current and Future Members section.
Choose the students to enrol in this group, and the date range they will be enrolled in this group for, then click Add Members.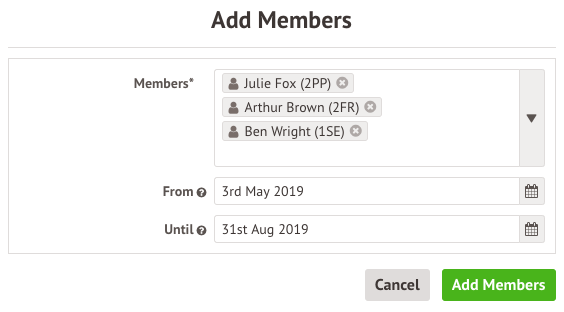 Top Tip: Press your cmd or ctrl + A keys to select all students, then just click any students you don't want to add to the group - great for excluding just a few students when reporting!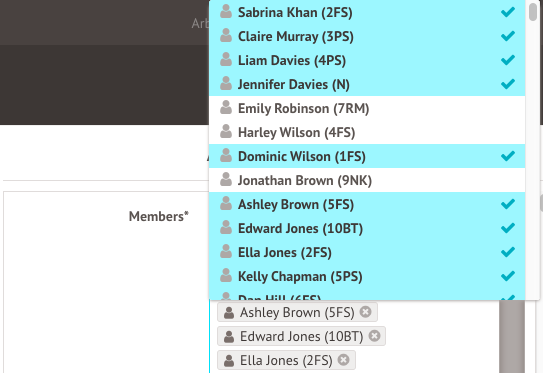 The students you have added will then appear in the Current and Future Members section.
Automatically Enrolling Students in Custom Groups
Adding automatic memberships to Custom Groups of students allows you to set up a Custom Group that can change regularly. For example, Year 1 students with greater than 80% attendance this week.
Please note: Applying an automatic enrollment will override and remove any students added into the group manually.
Once you have created the Custom Group you can select and set the membership criteria. Click the 'Setup' tab and go to the 'Automatic Membership Criteria' section.
Using the drop-down list, select criteria for automatic membership. In this example, I want to include students with a specific percentage of Unauthorised Absence marks. Then click Add Membership Criterion.

In the slide over that appears, add the dates the criteria will apply, and any relevant filter conditions. In the example, students will be added to the group if they had more than 15% Unauthorised Absence last term. Then click Add Membership Criterion.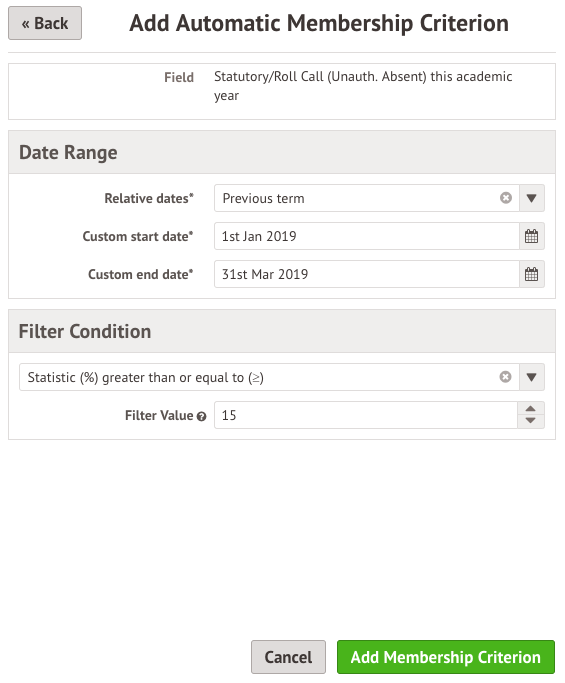 Any new members will then display in the Members tab.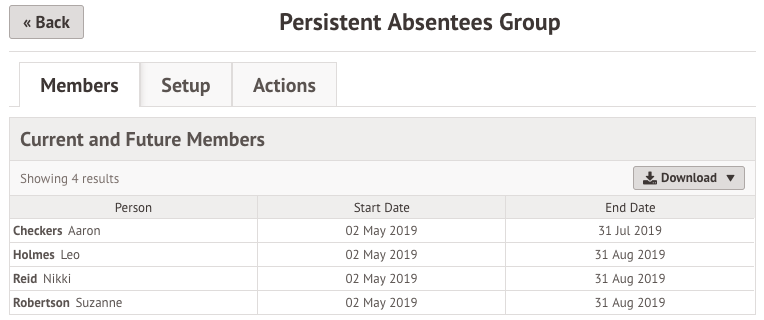 To delete an automatic enrolment, go back to the Setup tab and select the tick box next to the criteria, then click the blue pencil icon.
Moving a student between custom groups
For Manually Enrolled students
If a student needs to be moved from one group to another group, go to the Members tab.
Tick the boxes next to the relevant students and then click the blue pencil icon and select Transfer students.
You can also remove students from the group in this way.
In the slide over, select the group you wish to transfer the students to, then click Transfer member. They will then appear in the member's list for the other group, provided the other group uses manual enrolments.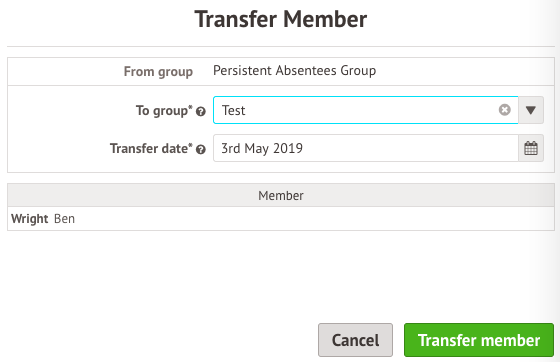 For Automatically Enrolled students
You cannot directly move automatically enrolled students from one group to another. Instead, you will have to remove the automatic enrollment from one group, then add it to the other group.
To remove an automatic enrolment, go to the Setup tab.
Click the boxes next to the criteria you would like to remove, then click the blue pencil con.

After confirming the changes, your students enrolled as part of the membership criteria you have deleted will no longer be members of the group.