You can see account balances for student's top-up accounts such as meals, and send messages to guardians to ask them to top up the account if they're running low or in debt.
Please note that it is not possible to automate these messages - they need to be sent manually.
Permissions
Finance: Administer - see balances and send communications to guardians
School: General Admin: Export Data - create a custom report
Send and administer school communications: Administer - set up communication templates
If you don't have the permission, you'll need to ask your admin team to give you permission using these instructions.
Using the balances page and default template
You can ask all Primary Guardians to top up in bulk using a new Mail Merge SMS, email or in-app message.
To select only guardian's whose children have low balances, go to School > Payments > Accounts > Balances. Tick the boxes next to the people to send communications to, then click the pencil icon to select the communication type.
Top Tip: Click the Balance column header to bring the lowest balances to the top.

You'll then be able to send the communication.

Can we edit the communication template?
You won't be able to edit the default recoupment communication template from like you can do with other system templates, as it won't appear in the list. If you want to edit the template, you will need to either:
edit the message each time you want to send the communication

follow the instructions below to set up a custom template
Using a custom template
To create your own communication, follow the steps below.
Step 1 - Create your report
Click the link at the bottom of this article to download the report template for Meals. Do not open the template. You can then import it into your site by following these instructions: Importing a report
Add any additional columns you want to include in your communications, or edit the filter as needed.
Step 2 - Create your template
Go to School > Communications > Templates and click +Add to add a new template with a Custom Report Writer report.

You can then use the fields in your custom report as Merge fields in your message. This will pull through the data in your report to the communication.
Step 3 - Send the communication
Return to your custom report, and tick the boxes next to the students you wish to send the communication to. Click the blue pencil icon to select the communications option.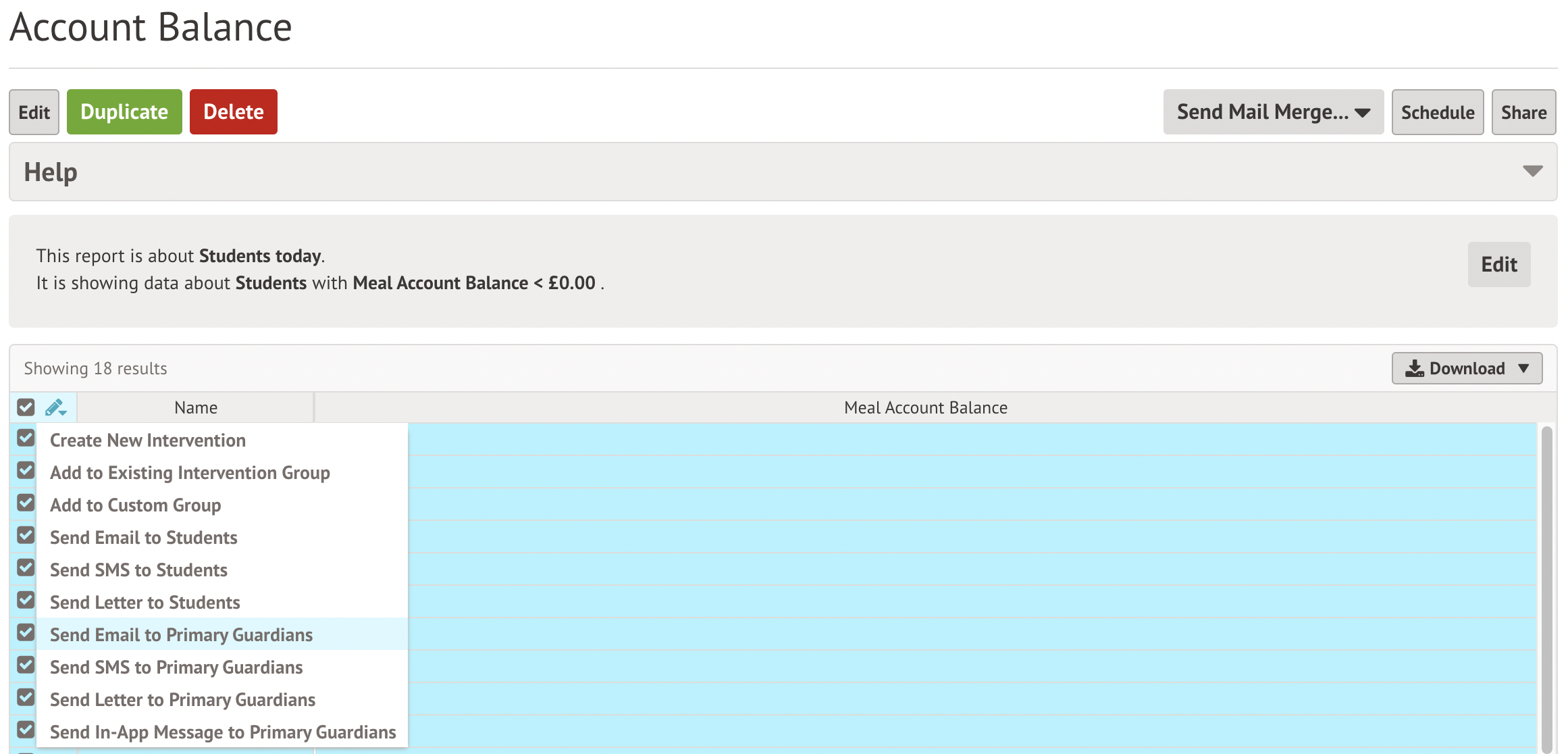 On the next page, click Load email template, and select your template.
The communication will then pull through the data from your report.