You may have created an extra student profile accidentally. You also may also have accidentally created duplicate students after importing a CTF and not matching the import to an existing student profile.
You can see a list of potential duplicate students in School > Data > Data Quality Dashboard > Suspected Duplicates > Students. Arbor colour codes the potential matches based on how many fields on both profiles are the same.

When clicking on a match, you can see in the slide over that the only action you can take is to keep the records separate, for instance, if there are two students at your school with the same name.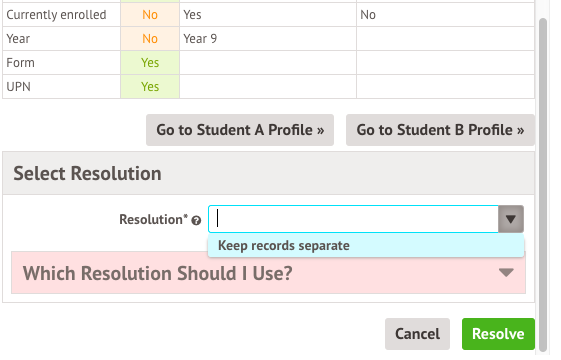 How do I merge or delete the student?
To help protect from accidental removal of important student data for your school, we do not allow schools to merge two student profiles together, or to delete incorrect profiles. To merge or delete a student profile, you will need to contact us via email at myteam@arbor-education.com
We will also need to receive written consent from your school's data controller via email to delete or merge any students. This is to ensure the action has been confirmed to be correct by someone else at your school, and that your school takes responsibility for the actions undertaken.
To ask us to merge students, please include in the email:
The URL of the student you wish to keep

The URL of the student you would like to merge with the first student
To ask us to delete students, please include in the email:
The student's name

The student profile URL ((This is the long bar at the top of the screen that usually begins with 'https')

Why you want to delete the student