Submitting your EDI files to the exam boards is the final step in the Examinations setup process. To do this you must first have added exams and added candidates to them in Arbor. For more information on how to do this, take a look at our quick overview article on Setting up candidates for exams.
As exam entries are not automatically sent from Arbor to the exam boards, you need to export them and upload them to the exam boards directly via the A2C website.
Awarding organisations will also only accept one EDI entry file per series, so please only generate an EDI entry file once you are completely ready.
Each awarding organisation also has cut-off dates for when entry and amendment files must be submitted for different exam series. Please check these carefully. If you miss the entry file or amendment file submission deadlines, you will incur late fees.
Please note that Arbor Support will not be able to support you Google, Outlook or the A2C app - please direct questions to them.
Permissions
You'll need the Qualifications: Administer All/My Students permission. If someone can't access a certain area, you can give them the right permission using these instructions.
What you'll need before getting started
Students need a UCI for the entries to be made correctly. Arbor will allow you to generate an entries file without UCIs, so we recommend checking your data before trying to create the files: Adding and editing exam candidate Unique Candidate Identifiers (UCIs)
Please see the FAQ below if you've generated your file before adding in the UCIs.
Generating EDI Entry files
To generate an EDI Entry file go to Students > Examinations > Entries > EDI Exports > Entries.
Here you can see:
Pending Submission - an overview of all the series that have yet to be exported in the Pending Submission section
Confirmation of Submission - series requiring confirmation or rejection
Submission Log - a list of past series and the actions taken against their EDI Files
To generate an EDI File for a series, click the series in the Pending Submission section then click to Confirm.

You will get a notification at the top right of your screen. Click this notification to download the EDI Entry file.

The entry file will begin with an E for entry. You must submit this file to the Awarding Organisation via the A2C website.

Please note: If you have downloaded your file multiple times, your new file will have (1) on the end of the file name. To be able to use this file, either rename this file to remove this number, or locate the original Entry File and use that instead.

When you generate an Entry file, the EDI Exports > Entries page will then display the information shown below. The series you just generated an EDI entry file for will display as Submitted.
What's next?
Once the Awarding Organisation has accepted your entry file, you'll need to Approve or Reject the file. You can see how to do this in this article: Confirming and rejecting EDI files
What if I need to amend the information I've submitted?
If you've removed some students from an exam, need to add access arrangements or make any other amendments to exam entries after you have submitted your EDI Entry file to the Awarding Organisation, you will need to generate and submit a new amendment file to the Awarding Organisation.
Step 1 - Mark the previous file as Approved or Rejected
If any student information has changed, you can check this by going to Exams > EDI Exports > Entries and clicking into a file. Any pupil details that have changed since it was generated will be highlighted in red so you'll know if you need to send a new amendment file.
You'll need to mark the last Amendment or Entry file generated as Approved or Rejected before you a new Amendment file can be generated: Confirming and rejecting EDI files
Step 2 - Generate a new amendment file
Return to the EDI Exports > Entries page and select the series from the Pending Submission section. Click the Confirm button.

The submission will then appear in the Confirmation of Submission section. Click this submission.
On the View EDI File Contents page, you can then click Download EDI File.
Also on the View EDI File Contents page, you can see a list of all the students that have been added or withdrawn from the exam series. It includes students that have been withdrawn because the exam board needs to be informed that the student is withdrawn.
You can then download the Amendment file. It will begin with A for amendment. You must submit this file to the Awarding Organisation via the A2C website.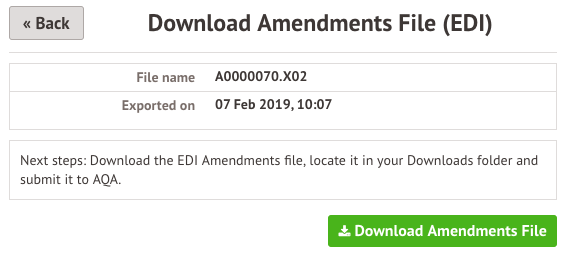 Once the Awarding Organisation has accepted the submission of the Amendment file, you can mark the submission as Approved. It will then appear in your Submission Log.
Please note: You can repeat this process as many times as needed, but please be aware of the Awarding Organisation entry and amendment submission deadlines. Submitting your files later than this date may incur charges.
FAQ
Why is the file showing no students?
If you EDI file shows 0 students (even if the students are entered for the Award/Unit), the most common reason is that they are missing a UCI. You'll need to:
Contact the Arbor Support Team or your Support Partner to delete the incorrect Entries file

Add UCIs following these instructions

Regenerate the new Entries file
Why didn't my entry file get submitted to the Awarding Organisation after I created it?
Entry files must be manually uploaded to the awarding organisation through their secure portal. Once the file has been uploaded, it should be marked as confirmed in Arbor.
I've downloaded my entry file, where is it?
This is often found in your operating system's 'Downloads' folder, or on your desktop.
Our entries file is empty
If you created your entries file when students didn't have a UCI, do not confirm or reject the file.
First, add all students' UCIs.
Then please contact the Arbor Support Team if supported by Arbor, or your Support Partner if not supported by Arbor to request that we reverse the file.
Once we have done this, we will confirm that this has been done via email. You will then be able to generate the Entries file again.
EDI generation failed
You won't be able to create an EDI entry file if:
Your centre number isn't set up - you'll need to add this into the slide over.