There are a few fields in Arbor you can fill in in bulk for students. You can find them in Students > All Students > Bulk Update or in School > Data > Data Quality Dashboard > Students.
Permissions
School: General Admin: Administer - Access and edit the data in the Data Quality Dashboard for students
Student: Consents: Administer - Update YSSA for students
If you don't have the permission, you'll need to ask your admin team to give you permission using these instructions.
Bulk Update Basic Student Details
This section allows you to quickly check that you have filled in some key information regarding students. To add or change any of the information, just click on the cell you wish to edit and a slide over will appear where you can add or update the correct information.

For example, to add an Ethnicity source, select the students then click the blue pencil icon to select Bulk Edit Ethnicity source to choose the source.

Bulk assign UCIs
This page shows all students whether or not they need a UCI. Use the bulk actions, or click into a blank UCI field to update it. You can see more details here: Adding and editing exam candidate Unique Candidate Identifiers (UCIs)
Bulk Update Funded Hours
Clicking on this will take you to a table that contains hours and funding information required in the School Census for Early Years and Nursery students. This data is not reported for 4-years-olds in Reception, so Reception students are not included in the table. For each individual student the number of funded hours allowed depends on the student's age and NC year.
Please note, for students that are not entitled to extended hours paid for by the government, do not enter anything into the Extended hours field. Hours paid for by the child's parents or the school should only contribute to the Hours at setting total.
You can update an individual student's hours by clicking on their name. You'll need to ask the parents if you do not know a child's code.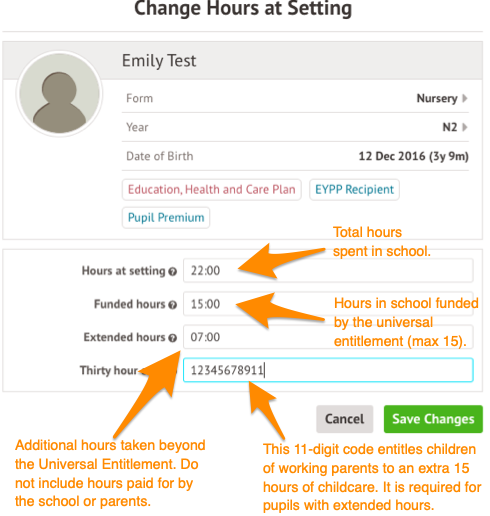 You can also add some information in bulk, but you will still need to add the codes in by clicking on the students.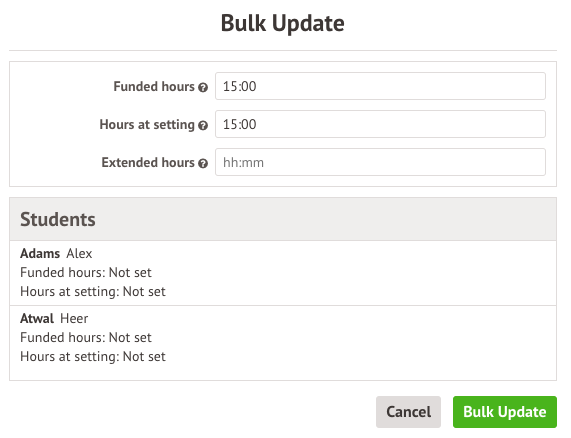 Bulk Update YSSA
For students who are 11+ you'll need to record who's information you are sharing with Connexions. Tick the students then click the blue pencil icon to update the value.
If you're not requesting this information, you can mark your students as Unsaught.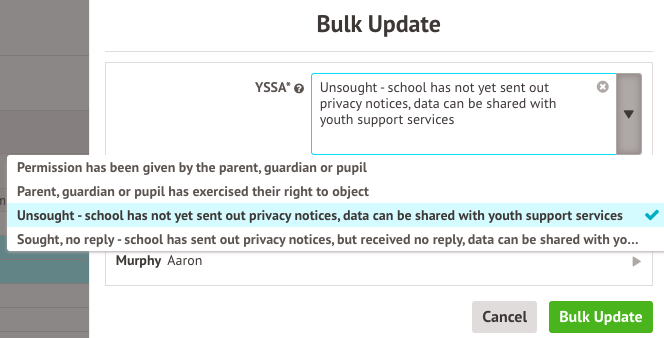 Bulk Update Student Contact Details
Here you can update student phone numbers, emails and addresses for all students this academic year. You can change the date range using the filters at the top of the page, and sort the columns to find missing details.
To update the phone number or email address, click the field to type into it.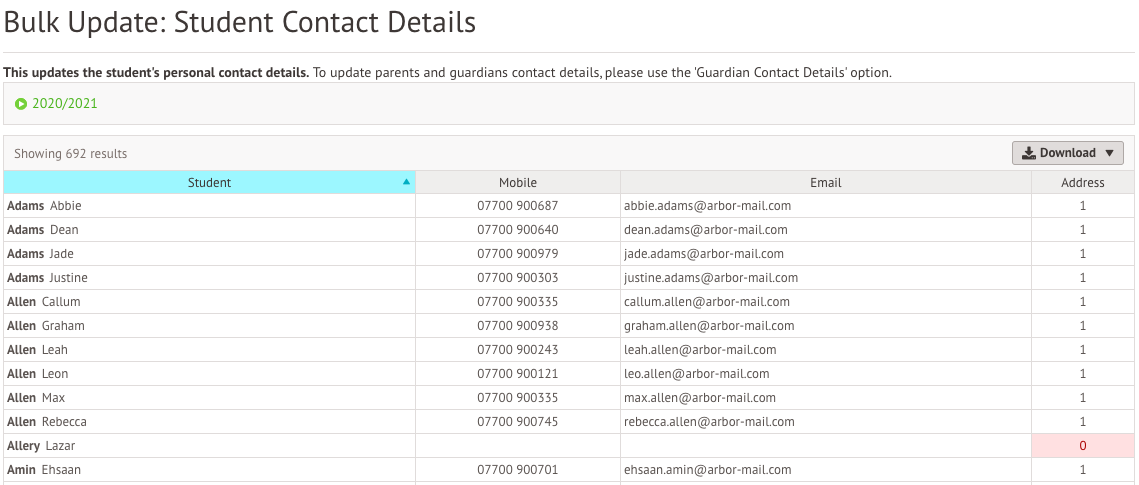 Why not join in the conversation in the Arbor Community?