Getting started and logging in
If you have not logged in to Arbor yet, welcome! Your school is now live and it's time to log in.
We designed Arbor to open data up to everyone and automate repetitive tasks to save you time. The exams area in Arbor has been specially built to allow exams officers to enter students into qualification awards and units without messing around editing basedata.
This guide will give you an introduction to exams in Arbor and will teach you how to do the most important actions in an Examination Officer's day-to-day life.
Before you begin
Before starting to use Arbor for Exams, we recommend:
Record all your key deadlines:

Check your awarding organisation's entry, amendment and coursework deadlines. Read the JCQ overview of exam entry and result deadlines

here

.

Review key exams terminology: Understand key exams terminology using our handy key terminology article or external sites found through an internet search.
Check out our common exam FAQs here.
Early entries preparation: Work with subject teachers as soon as possible to finalise candidate entries per qualification and stay on top of entries before the entry deadline. Check the awarding organisation websites for their deadlines and fees for submitting candidates late.
Check prior attainment: Previous results for English and Maths can't be imported via a CTF, so ensure these are added into the other area of Arbor: Adding prior attainment for English and Maths
Logging in
To log in, launch an internet browser - we recommend Google Chrome, and go to your school's URL e.g. http://[exampleschoolname].uk.arbor.sc. Follow the instructions in the Logging in for the first time section of this article: Log in and out of the School MIS as staff
If this does not work, get in contact with someone else in your school's office team who will be able to send you a reset password email and follow our troubleshooting guidance in this article.
My Homepage
This is the first screen that you will see when you log in to your school's Arbor site.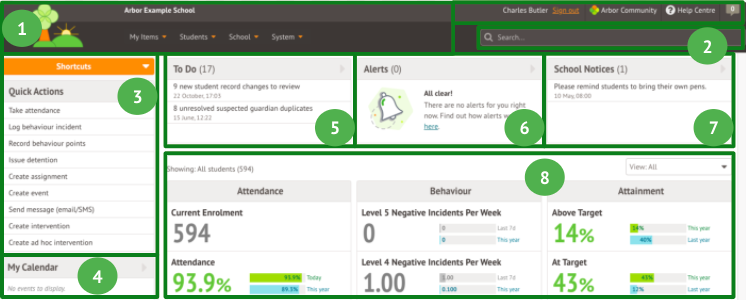 Top menus and site links
Search
Shortcuts and Quick Actions
My Calendar
To do
Alerts
School notices
Key performance indicators (KPIs)
Take a look here for a full breakdown of how you can use each section: My Homepage - your personalised Arbor Homepage
Why does my view look different to teachers?
If you're an administrator with no teaching or pastoral responsibilities, your homepage will look different to other staff at your school:
You won't see incomplete attendance registers in your To Do section.
You won't get most alerts as you aren't linked to specific students.
You won't see the

My Students

tab, but you can drill down into your whole school KPIs.
How exams work in Arbor
Now you've logged in and had a look around your site, it's important to get familiar with the exam pages, and take a look at your school's settings. Go to Students > Examinations or Students > In-house Exams in the top navigation bar.
Checking your centre setup
Even if your school has been using Arbor for exams for a while, it's a good idea to check your exam centre's setup by going to Administration > Centre Setup.
You'll use this page to add your Centre Number, default sitting times, and select how to display data in printouts and on the Student Portal.
Then you can add the Awards and Units that students can sit on the Qualification page. Add the qualifications you'll be running this year and make sure you have added all your candidate information: Setting up your centre, exams and candidates
Depending on the type of qualification, the process for setting them up will be slightly different:

Entering students
To be able to enter candidates into their exams, they need to be an exam candidate. You'll need to make sure they've been added, with a UCI and any access arrangements:

When it's time to submit students for exams, you'll need to enter them in Arbor, then send the entries off to the awarding organisations:

Scheduling and attendance
Once students are confirmed for exams, you can schedule them in Arbor. You'll need to set up your rooms, once you've done this you can add candidates to these rooms, and then add candidates to the seating plan.
You can then resolve clashes, and generate printable resources such as timetables and labels.
Top Tip: You'll need to work with your school's Attendance Officer to ensure attendance is taken properly for students doing exams: Exam attendance registers and Updating Attendance for students who have had Exams

Results and analysis
There are a few different ways of adding exam results into Arbor, depending on the type of qualification. You can see how to get them into Arbor here: Entering Exam results in Arbor
You can then share them with students, or guardians or both via paper or the Portals: Creating and sharing statements of exam results

You then have the option to analyse results for year 11s using our built-in Results Analysis page, or export them to 4Matrix, SISRA or ALPS connect: Exporting your examination results for analysis outside of Arbor

Top Tips
How to make the most of Arbor
Take a look at our resources for tips and tricks for using Arbor:
How you can get further help
Go to the Help Centre at support.arbor-education.com/hc or click Help Centre in the top right of your Arbor site to open it in a new tab. Here you can find FAQs, guides, video tutorials, and free online training, so you can learn however suits you best.
Take a look at this section of the Help Centre for how to get started, including what to do if Arbor isn't working, and how to get in touch if you need further help: Using Arbor, the Help Centre and the Community

Where can I give feedback?
The Arbor Roadmap shows you what we're working on now, what's coming up next, and those shiny new features and enhancements we're looking to release a bit further down the road. If you have feedback you can see how to submit this here: Our Product Roadmap and how to submit feedback